Monkeys Always Look is one of Evatopia's newest finds. Featuring unique Sterling Silver and Copper Wedding rings, Mens rings, Personalized rings and the Original Silverware Garden Markers…
Everything is crafted by hand in their studio in sunny San Diego, California. The company finds joy in hand making each piece, one at a time.
Monkeys Always Look signature items include the Latitude Longitude Wedding Band, the Personalized Mommy ring, the Tree Bark Ring, and the Secret Heart ring. Soon to come are earrings and necklaces.
Monkeys Always Look is also the originator of the Silverware Garden Markers. Often imitated, but never matched in originality and innovation the Silverware Garden Markers have been successful beyond their wildest dreams.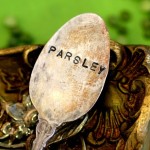 Karen, the owner and lead designer of Monkeys Always Look, enjoys creating and collecting artwork, grading diamonds & gemstones, metalworking, designing gadgets, and most importantly, raising her two beautiful girls with her husband.
Check out one of Evatopia's favorite items…their Latitude and Longitude Wedding Ring Mixed Metal Band. You can find it here.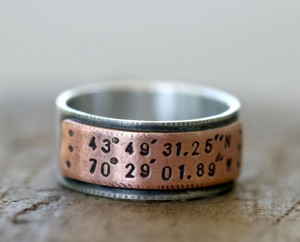 Orders are shipping about 2 weeks from purchase, but rush orders are available. Simply contact Monkeys Always Look for rates.
You can stay in touch with Monkeys Always Look at these social media sites: 
Facebook | Twitter | Pinterest | Instagram
Secret Sales and promotions will be mailed out to those who sign up for their newsletter!
About Margery Walshaw
Margery Walshaw works with writers to promote their projects to consumers and entertainment entities. Via Evatopia, she has created a networked world of creative, female entrepreneurs and markets them to a targeted audience of women. She has worked on publicity campaigns for internationally recognized companies and taught P.R. at Pepperdine University in Malibu, also providing private instruction to countless professionals. Margery holds a dual BA in Communications and Social Sciences, and a MA in Professional Writing from USC (go Trojans!). Stay in touch with Margery via Evatopia's social media links along with this site's newsletter.