I just love what Pretty Paris stands for: recycle, renew, repurpose.
The company creates hand-stamped vintage silverplate flatware. Wedding forks, cake servers, housewarming serving sets, garden markers, and much more for use in your home or garden. You can't go wrong with these unique hand-stamped lovelies.
The company has been featured on Martha Stewart's website…and now Evatopia too!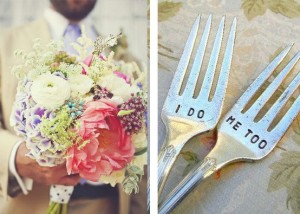 In keeping with their environmentally friendly commitment, Pretty Paris ships all items in 95% Recycled Content Envelopes. Envelopes are plastic free and padded with recycled newsprint.
Production time is generally 1 to 3 days and then products are mailed first class.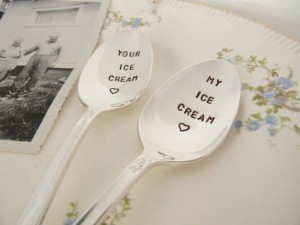 Pretty Paris' owner is Heather, a stay at home mom living in Southern California with 2 kids, 1 fish, and a lovely little pair of chubby guinea pigs. "My shop means the absolute world to me. I love my work, my customers, and the lovely friendships I have made through PrettyParis."
Stay in touch with Heather and Pretty Paris…
Twitter | Facebook | Etsy Store
About Margery Walshaw
Margery Walshaw works with writers to promote their projects to consumers and entertainment entities. Via Evatopia, she has created a networked world of creative, female entrepreneurs and markets them to a targeted audience of women. She has worked on publicity campaigns for internationally recognized companies and taught P.R. at Pepperdine University in Malibu, also providing private instruction to countless professionals. Margery holds a dual BA in Communications and Social Sciences, and a MA in Professional Writing from USC (go Trojans!). Stay in touch with Margery via Evatopia's social media links along with this site's newsletter.