We love to read. Fiction, chick-lit, paranormal romance, new adult, young adult…you name it. We also love to share our author's work with our readers.

Sign up for Evatopia's newsletter to get exclusive author interviews!
London Love by Victoria Atkin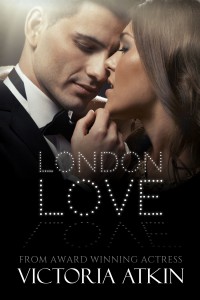 Evatopia Press is proud to reveal the cover for Actress Victoria Atkin's debut novel, London Love. This beautiful cover was designed by Kate Strawbridge of Dwell Design & Press.
BOOK SYNOPSIS
True love or the career of a lifetime? Could you choose?
Evelyn Wise and Jack King share strong acting ambitions and unstoppable persistence when it comes to pursuing their careers. But on one fated night, they meet on Shaftesbury Avenue in the heart of London's theatre district. Innocently, they entertain their curiosity for each other behind the stage door of the Gielgud Theatre, allowing their hearts to open to each other during a summer romance in Soho.
As their acting careers begin to take flight, their relationship becomes a casualty of their fame. A world of sex and drug deals begins to encompass them, forcing each of them to employ unlawful actions to survive their broken existences and secure their dreams.
Words are left unsaid as they travel, and Evelyn and Jack are faced with the raw reality of having to choose between their love of success and their love for each other.
Find London Love online…
AUTHOR BIO
Victoria's writing passion was nurtured as a child when she would write poems and short stories during car journeys with her father. As her academic studies continued, Victoria's flair for writing developed alongside her acting career where she studied at The University of Chichester and The Royal Central School of Speech and Drama. 
Victoria has written for The Stage Newspaper and Spotlight, both highly regarded sources of research for the acting communities in the United Kingdom. Her first novel, London Love, will debut in early 2015.
In addition to acting commitments, Victoria continues to develop literature for the world of television and screen, as well as women's romance fiction and acting theories and guides.
Stay in touch with Victoria on these social media channels…
Facebook | Twitter | Instagram | Pinterest | IMDB
Amazon Author Page | Goodreads
*   *   *
The Last Wolf Standing by Belinda Boring
Don't miss out on the stunning seventh installment in the Mystic Wolves series.
War has come to the Mystic Wolves Pack–one the will bring old enemies together in the desperate fight to destroy the Master. Things have never been so dire for Mason and Darcy as their love for each other and their friends fuel their determination to win at any cost.
Lives are on the line, heartache inevitable.
Who will be THE LAST WOLF STANDING?
Last Wolf Standing is available for pre-order on Apple iTunes, B&N, and Smashwords. 
Amazon will be available November 30th.
Apple iBooks  |   B&N    |    Smashwords 
*   *   *
Sky Watcher by Ella Emerson
Meet Allison Singleton, Single, alone. Her husband had left her after years of marriage, and she is destined to be alone for the rest of her life. At 35, she is afraid to hop back into the dating scene, as she knows there aren't too many options at her age. She has labeled men her age into two categories: Taken, being the first. Everything left over, being the second. The second group is, the men who are so dreadful no woman has snagged them up yet. This is her dating pool.
That is until she meets the hot lawyer, Gavin McDermott, on a blind date. Who may just be what she is looking for. He offers her a job she never expects, and she accepts to try new things. It is here she discovers, herself, how to be happy and maybe love.
Sky Watcher can be purchased from:
*   *   *
Dancing With The Devil by R.K. Ryals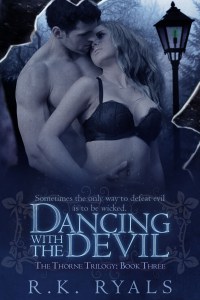 Blurb:
Falling ash. Subservient Hellhounds. Dark mirrors and ticking clocks. Such is the life of a daughter of Hecate living in Hell …
Monroe Jacobs isn't your typical witch. She is strong, her powers growing with each passing day. They are powers that beckon, powers coveted by many, including the man she loves.
Luther Craig is a remorseless Demon ruler in Hell. Governing a kingdom once presided over by his mother, the she-demon Lilith, Luther has everything he's ever wanted. Power. But his kingdom is at risk, his newfound strength a challenge to the Princes of Hell.
Theirs is a strange relationship, the witch and the Demon, full of passion and need. It's a relationship that will be tested by the worst kind of obstacles–pride, covetousness, lust,  anger, gluttony, envy, and sloth.
For in the ash-filled shadows of Hell, the Princes are preparing for war. Luther isn't the only one who wants power and a blonde-haired witch. He'll have to face the Seven Deadly Sins to keep both.
***Due to language, violence, and sexual content, this book is suggested for older readers***
 Dancing with the Devil is available from:
*   *   *
My Parents are Crazier than Yours by Marlene Rhein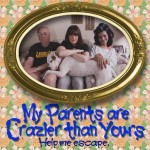 "My Parents are Crazier than Yours" a comedy web series written by Marlene Rhein about a NYC woman who gets fired and is forced to move back to suburban Long Island with her crazy parents.
My Parents are Crazier than Yours on YouTube
*   *   *