We love to read. Fiction, chick-lit, paranormal romance, new adult, young adult…you name it. We also love to share our author's work with our readers. Please read about our authors below: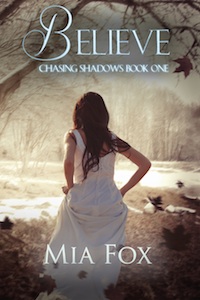 Believe by Mia Fox
Nate survived countless attacks on his Marine platoon while in Afghanistan, but one undying thought kept him safe — the knowledge that Ella was waiting for him.
Ella marked off the days until Nate's return by writing letters to him, knowing that once he was safely home, they would fulfill their promise to live each day to its fullest.
Theirs was a love that would endure separation…even in the wake of a tragic accident.
Although now apart, Ella is given reason to believe in ghosts when Nate's presence visits her and remains her lover. But when another man enters her life, Ella struggles to give herself over to a new love and maintain her bond to Nate's ghost.
A romantic ghost story and love triangle tied to one woman's need to…Believe.
Believe is available on Amazon
Read an excerpt
Read some reviews
*   *   *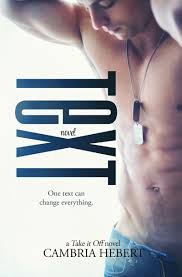 Text by Cambria Hebert
***This is a new adult contemporary novel and contains sexual content and graphic language. It is not intended for young adult readers.***
One text can change everything.
Honor Calhoun never thought her life would ever be like the books she writes for a living. One morning while out for a run, she learns not all bad things are plots in novels. Some horrors can actually come true.
She faces off with a persistent attacker, holds her own, but in the end is taken hostage and thrown into a hole. In the middle of the woods.
But Honor didn't go down there alone.
She took her kidnapper's phone with her. With a spotty signal and a dying battery, her hope is slim.
Nathan Reed is an active duty Marine stationed at a small reserve base in Pennsylvania. All he wants is a calm and uneventful duty station where he can forget the memories of his time in a war-torn country.
But a single text changes everything.
Nathan becomes Honor's only hope for survival, and he has to go against the clock, push aside his past, and take on a mission for a girl he's never met.
Both of them want freedom… but they have to survive long enough to obtain it.
Text is available from Amazon
Read an excerpt
Read some reviews