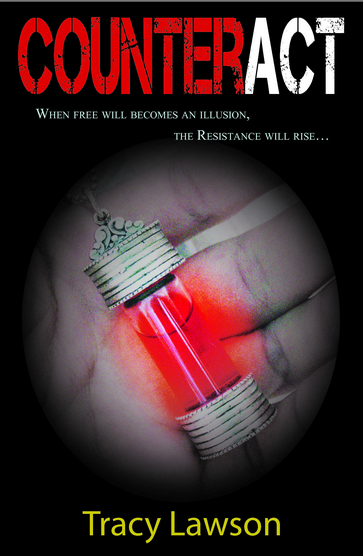 Two strangers–their destinies entwined–must work together to thwart a terrorist the country never suspected.
The Office of Civilian Safety and Defense has guarded the public against the rampant threat of terrorism for the last fifteen years with the full backing of the US government. Their carefully crafted list of Civilian Restrictions means no concerts or sporting events, no travel, no social media, no cash transactions, and no driver's licenses for eighteen-year-olds Tommy and Careen. The OCSD has even outlawed grocery stores, all in the name of safety.
Now there's a new threat: airborne chemical weapons that could be activated at any time. But the OCSD has an antidote: just three drops a day is all it takes. It's a small price to pay. Or is it?
You can find Counteract at these online retailers…
Read an excerpt right now…
DAY 1: FRIDAY, OCTOBER 27, 2034
QUADRANT OP-439
(FORMERLY SUBURBAN COLUMBUS, OHIO)
9:10 AM
Careen Catecher was just a few steps from the front door of the history building when a wave
of panicked students poured out, driving her back into the quad. Someone's backpack knocked
her coffee mug out of her hand. A guy she didn't know grabbed her roughly by the elbow and
spun her around without breaking stride, dragging her with him as he ran.
"Come on! Didn't you hear? We're supposed to report to the student center."
"Why? What's happening?"
The first wail of the disaster siren drowned out his answer, and she cringed as they ran
across campus in the growing stampede, thinking in a detached way that she'd picked the
wrong day to be late for class.
A frightened crowd gathered outside the university's student center, pressing toward the doors
and shouting over the siren. Careen fought to keep her balance in the undulating mob. The
shrieking siren stopped abruptly, and in the unnerving silence, phones all around her pinged
with incoming messages. She dug hers out of her back pocket.
"Campus alert. Shut up—it's a campus alert." The murmurs spread and seemed to calm the
crowd. Hundreds of phones played the voice message in near unison, magnifying the audio so
it was easily heard:
"Moments ago, the Office of Civilian Safety and Defense confirmed that a chemical weapons
attack against the United States is imminent. Terrorists have released a latent cocktail of poisons
into the atmosphere, where it can remain, inert, until such time as they choose to detonate it. You
are directed to report to a designated distribution center in your area to receive an antidote that
will protect you. Weekly allotments of this antidote will be provided free of charge for as long
as the threat persists. The OCSD expects the terrorists to mount repeated attacks, so it is
essential that you take the recommended daily dosage. Compliance is a small price to pay for
your safety."
Every face turned toward the cloudless, blue sky as someone's sobs cut through the silence.
9:59 AM
Tommy Bailey lay tangled in his blankets, one arm hanging off the side of the bed. He usually
slept soundly, thanks to his pain meds, but not today. He opened his eyes, blinking back the
bright sunshine that filled the room. What the hell was that noise? He glanced at his bedside
clock. Only 10 A.M.? He'd have slept much later if not for that siren howling outside, but now
that he was awake, he was curious enough to roll out of bed and hobble downstairs. The
television in the living room was on, which was no surprise since it powered up automatically
any time there was an important announcement or mandatory programming. He lowered
himself onto the sofa to find out what was going on.
"OCSD expects repeated large-scale attacks. The National Weather Service, in cooperation
with the OCSD, will monitor the atmosphere and report discernible toxin levels. The Emergency
Broadcast System will conduct practice drills and notify the public in the event of an actual
chemical attack. Remember, the antidote will counteract the effects of hazardous toxins if
taken every day, so for the next three weeks, the Emergency Broadcast System will issue
morning reminders to help everyone acclimate to the dosage schedule. Take action to protect
yourself and your family. Your safety is our greatest concern. Go directly to the distribution center
in your quadrant."
The OCSD's PeopleNet address and an information hotline number flashed on the screen.
Tommy shook the cobwebs from his head. Do I want to live or die? Shit. Not again.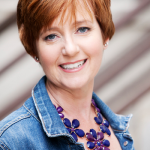 Learn more about Tracy Lawson…
Tracy Lawson has wanted to be a writer ever since she learned to read. She earned her Bachelor of Science in Communication from Ohio University, and though she embarked on a career in the performing arts as a dance instructor and choreographer, never lost her desire to write, and thus far has to her credit a coming-of-age dystopian thriller and an historical nonfiction. Her interest in writing for teens is sparked by all the wonderful young people in her life, including her daughter, Keri, a college sophomore.
Stay in touch with Tracy…