From author Nely Cab comes Creatura, combining mythology, action and suspense.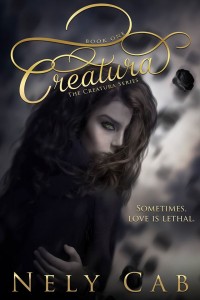 Isis can control her dreams. Or she could—until recently. The creature in her nightmares has been haunting her for months. As if being dumped wasn't bad enough, now she dreads going to sleep. She decides to confront the creature and win back some of her peace; only, she finds that he's not a monster and he's not a dream. A sacrifice for love, a shocking discovery and a jealous ex-boyfriend blur the lines between reality and dreams, making it hard to tell who the real monsters are.
Who would've known…that sometimes love is lethal?
Read an excerpt now…
"It's not working," David said. "Why isn't it working?"

"You don't have much time. If the corrosion reaches her chest, she's going to die," Nyx said.

"I'm going to die?" I mumbled.

I always thought I would be afraid of dying. I carried that fear with me since I was twelve, after looking inside that coffin at my dad's stiff, breathless body. But now that it was my turn, I was ready. This was the destiny that was written for me.

"I can't do it, Mother. I have nothing to forgive her for," David said.

If I was going to die, I needed to tell David something I hadn't had the courage to tell him before.

I glanced at my arm. The decomposition was at my elbow and the tingling had crept up near my shoulder. I didn't have time to waste.

"David," I said, and he looked at me. "I'm sorry I hurt you. I needed you to know…to hear it."

I could feel the tingling a few inches past my shoulder. Nyx pulled my shirt at the neckline exposing my collarbone and part of my shoulder.

"I love you," I said. "I always have."

"I'm so sorry I did this to you," David whispered stroking my forehead.

I could no longer feel my arm, my shoulder and part of my chest. And then I felt it—a searing pain in the middle of my chest. I writhed in anguish, screaming at the top of my lungs. My whole body jerked, and then there was darkness. Everything was silent, including my heart.

A soft light surrounded me, cradling me in a tranquility I had never known existed. I struggled for a last breath, but it was too late. The end was here.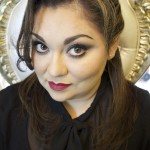 About Nely Cab…
Nely Cab is a Writer of stuff, a Master Coffee Drinker, a Food Maker & Eater, an Imaginary World Conqueror, and an Air Breather. She talks to herself—a lot—in her South Texas home while she plots stories about fantasy worlds and sips coffee from a pitcher. She's known for cooking far too much food and has a tendency to overdo…well, everything. It is rumored that she is fabulous. Nely Cab is the best-selling author of the Creatura series.
You can buy Creatura at these online stores…
Amazon | Barnes & Noble | Kobo | iTunes | Smashwords
And, stay in touch with Nely here…