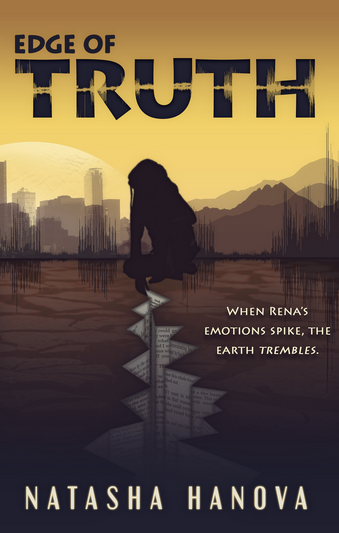 Edge of Truth by Natasha Hanover is a young adult paranormal romance/dystopian tale. Read on for details.
Citizens who report to work on time, obey the Overlord's laws, and stay off the Synbot's radar, live long lives. Long, dull, monotonous lives.
It's not a bad plan for sixteen-year-old Rena Moon whose emotions trigger earthquakes. In a world pitted against her, she strives for a life beyond working herself to death at the factory. Seeing an alternative, she risks selling relics from the forbidden lands at Market. It becomes the worst decision she ever made. Someone kidnaps her best friend in exchange for the one thing that would end her oppression.
Driven by loyalty, Rena and seventeen-year-old Nevan Jelani, soulful composer, green thumb extraordinaire, and the secret love of her life, plot to rescue her friend and reclaim her salvage. Still, the thought lingers whether Nevan is a true hero or another thief waiting for his chance at her loot. Events spin wildly, deepening Rena's suspicions and pushing her limit of control. With more than her chance for freedom at stake, she must decide if she's willing to kill to protect what's precious to her. For once, the Overlord isn't holding all the power, but can Rena live with being reduced to what she's struggling so hard to escape?
You can find Edge of Truth exclusively on Amazon!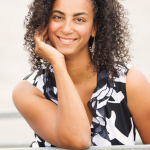 Natasha Hanova is the author of Edge of Truth, a YA dystopian novel. She enjoys sliding around the house in her socks and loves nibbling Peanut M&Ms while reading or writing paranormal, dark fantasy, and dystopian books with heavy doses of romance. You can stay in touch with Natasha on these social media networks…
Website | Facebook | Twitter | Pinterest
Keep reading for an exciting excerpt from Edge of Truth when Rena and Nevan have escaped from the bad guys and set up a hidden camp inside a cave made from a stone with diamond-like qualities….
"You're divided," Nevan said.

"What?" Rena asked.

"Your face." He lightly touched her hairline, traced a path down her forehead, between her eyebrows, across the bridge of her nose, and paused slightly at her lips then continued to the tip of her chin. "Divided between shadow and light."

"Oh." Sweet Mother… Warmth blossomed from the tingling line down the middle of her face and swept through her body. Her breath escaped in a soft moan, which she hoped the crackling sound of the fire covered.

"Rena?" Firelight danced across his face. His bi-colored eyes drank it in, more radiant than the sparkling stone. He was too beautiful to look at, and the only thing she ever wanted to see.

"Yeah?"

"Remember the other day, at that club in the Underground?" he said in a low voice.

His strong arms wrapped around her. His soft lips pressed against hers. The delicious taste of his mouth. Heat pooled in her stomach. She hoped the shadows hid her blush. "How could I forget?"

"There's something I need to tell you." He sounded too serious.

A cold wave rolled over her, dousing the flames inside her with an almost audible fizzle. "Uh-huh?"

"I don't know where to start." He peered over her shoulder at Blaze who snored softly. "And this might not be the best time or place, but I really need to get this out."

"What is it about?" She wasn't sure she really wanted to know. Her tongue swelled, making it difficult to swallow. She parted her lips slightly and sipped small breaths.

"Us," he whispered. He was quiet for a moment, a long, impossible moment.
Related articles across the web