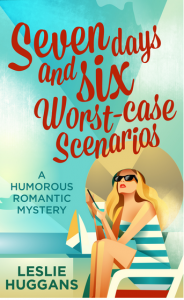 Mix dry wit with a juicy corpse and let it simmer over a red hot romance to serve up a wicked comedy.
Curious, quirky, crisis consultant Victoria Douglas needs a vacation, and to learn to keep her sassy mouth shut. Instead, she's gunning a stolen SUV up a mountain with beer cans and bug spray as her only weapons in a fight for survival. She and her investigative reporter friend, Julie Tran, have landed in a Caribbean vacation crap-sandwich bursting with murder, narcotics, and one gorgeous piece of man-flesh.
College flame, Alex Marshall, professed his love and disappeared without a trace. Twelve years later he materializes at Victoria's resort on St. Kitts and he's got more charm and sex appeal than ever. Tingling lady bits and long-buried feelings aside, Victoria discovers she and Julie are at the center of a criminal conspiracy that stretches across two continents. They've got one chance to prove their innocence before competing nefarious factions feed them to the fish…or worse. Victoria has to decide just how far she is willing to go to save her life and mend her heart.
Get your copy of this humorous, romantic mystery on Amazon.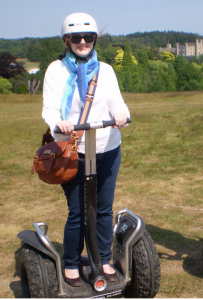 A little bit about Leslie Huggans…
Leslie enjoys a dry wit and a juicy crime and she excels at misadventure. While she has never been a murder suspect, many of the events in her books have actually happened to her. She has two jobs. The first is wearing pantyhose every day while toiling for a global corporation. The second is catering to the whims of her feline companions. She lives to travel all over the globe. Leslie visits the Caribbean every winter for a sun holiday, but has yet to encounter a dashing CIA agent. One must live in hope.
Stay in touch with Leslie.
Read an excerpt of "Seven Days and Six Worst Case Scenarios"
If I hadn't been fighting for my life with beer cans, bug spray, and pent-up aggression as my only weapons, you probably wouldn't want to read about me. After all, a thirty-something woman with two cats and a boss who can't keep his hands off his crotch is rarely worth noticing. But, this woman was gunning a stolen SUV up a mountain goat path with a monkey in the back seat screeching "Kek-kek-kek." His owner was screaming something about his own head colliding with the roof. My friend Julie was in the passenger's seat ordering me to slow down. Good thing I was accustomed to people complaining about my driving because we had much larger issues than my dislike for the brake pedal.

The order for this Caribbean vacation crap-sandwich was placed when a travel magazine addressed to me, Miss Victoria Douglas, landed on my desk during a particularly bad day. I looked at the cover and called the only person I knew I could count on. Julie Tran had been a loyal friend since middle school. One feature story about St. Kitts, a short conversation with Julie, and a few Internet clicks had me vomiting in the toilet at work. I'd just spent my mortgage payment on a plane ticket.

That ticket transported me from our nation's capital to a magical kingdom of smiling people, cool ocean breezes, and sand between my toes. Said toes were currently crammed into wedge sandals that my body had not yet mastered. Even with the sandals, my white linen pants skimmed the floor. I am that awkward height that is too tall for petites, but too short for everything else. I wobbled my way to the arrival hall to claim my luggage and wait for Julie to arrive from Houston. My wobbling was so impressive that a couple of obnoxious guys in a rowdy Canadian bachelor party thought I was as drunk as they were. The scent of their tequila eau de toilette stung my nostrils.

"Hey baby," one yelled out. "Want to come back to our hotel and party with us, eh?" He added a vulgar pelvic thrust as punctuation.

"Not even in your wettest dreams, buddy," I yelled back and rolled my eyes.

"Another win for U.S. diplomatic relations I see," a familiar droll voice called out from nearby. "Twenty years as your friend and I still never know what is going to erupt from your mouth."

In my excitement to follow the voice, I spun on my heels, lost my balance, and landed face down on my big straw purse. I looked up expecting to see the long black hair that came with Julie's Asian heritage. Instead, I was confronted with a very curious mop of bleach blonde hair. It was so shocking that I forgot to be embarrassed about my collision with the airport floor. Nor did I notice the raucous laughter of my former admirers. Julie tugged me into a standing position. We hugged and emitted the high-pitched noises that instinctually occur when female friends reunite or smoke alarms go off.