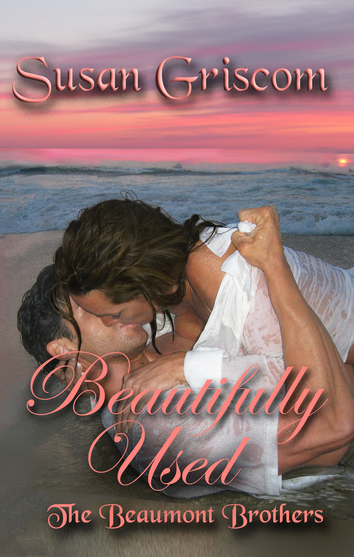 Beautifully Used by Susan Griscom is the second book in The Beaumont Brothers Series.
Suave, handsome Brodie Beaumont has a history of using and being used by women. A past he doesn't like to talk about has turned him into the type of guy he is today, but he hasn't really cared. Until the beautiful and feisty Gabrielle Demeres comes back into his life.
Gabrielle learned the hard way what type of guy Brodie was the first time she met him. His crude seduction attempt earned him a slap to his face, and Gabrielle wasn't exactly looking forward to another encounter with the cad. Unfortunately, her best friend was marrying Brodie's brother, and Gabrielle and Brodie would be forced to spend time together whether she liked it or not.
As things in the small, quiet town of Turtle Lake take a decidedly dark and dangerous turn, Gabrielle and Brodie only have each other to turn to. Will they be capable of overcoming their aversion to one another while coping with their own troubled pasts and dealing with the current dangers surrounding them? Or is their hostility just skating the fine line between love and hate?
Available at these online retailers…
Amazon | Barnes & Noble | Kobo | iTunes | Smashwords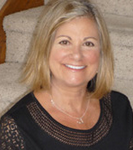 About the Author…Susan shares a little of her upbringing and philosophy on writing.
I grew up in a small town in Pennsylvania, spending most of my time daydreaming or playing around in the mud. I grew out of the mud play, well, most of the time, a good soak in the mud is always fun. I still daydream often and sometimes my daydreams interrupt my daydreams. So I write to remember them. If I didn't write, I think my mind would explode from an overload of fantasy and weirdness. To the annoyance of my friends and family, my characters sometimes become a part of my world. During my childhood, I would frequently get in trouble in school for daydreaming. Eventually, my vivid imagination paid off and I had the privilege of writing and co-directing my sixth-grade class play–a dreadful disaster, though not from my writing, of course. I'm pretty sure it was the acting.
I enjoy writing about characters living in small quaint towns and tend to lean toward the unusual and edgy.
My paranormal playing field delves into a different milieu, abandoning vampires and werewolves, but not discounting them. Someday I might like to write a novel about vamps and those furry creatures. But for now I like the bizarre mixed with romance. A strong hero or heroine confronted with extraordinary forces of nature, powers and capabilities gets my blood running hot as does an steamy contemporary romantic suspense.
You can stay in touch with Susan here…
Website | Newsletter | Facebook | Twitter | Pinterest | Google+
You can read an excerpt of Beautifully Used here, but please be advised that it is appropriate for audiences 18+.
She looked up at me and smiled, oblivious to the fact that she was sitting there looking so sexy and tantalizing. I had a hard time keeping myself planted in the door jamb instead of pouncing onto the bed and pulling her into a long seductive kiss. Any red-blooded male would have. God, this woman drove me nuts. How would I ever survive this arrangement?

"Hi. You worked late. Did you have a chance to eat dinner?" Her melodious words jarred me from my intemperate, seductive thoughts.

"Uh … no. You?"

"No. I waited. I've been craving sushi and hoped I could convince you to do take out."

I fished my phone out of my pocket and looked at the white neon 8:12 on the display. It's kind of late. We could call and see if they'll still deliver this late. I searched through my contacts and located the local sushi restaurant, well, the only sushi restaurant. Lucky for us, they delivered. Even luckier, they were still open for business. "Hold on just a sec," I said into the phone and handed it to her. "Here, order whatever you want." I pulled out my wallet, snatching out my credit card and handing it to her. "I like everything, but make sure to add in some spicy stuff. I'm gonna hop in the shower. See if they'll deliver a bottle of saké too. Something dry and bold. We have some celebrating to do." I turned quickly before she could ask me anything, leaving her with the phone, and headed to my room. I wanted to yell back and tell her to put some clothes on, but thought better of it. She probably had short shorts on that I couldn't see. Gabrielle wasn't the type to sit around in her underwear with her door open.

****

Hot water flowed over my head and I closed my eyes, but all I saw was flesh; the silky flesh of Gabrielle's thighs. As I spread the soap over my chest and stomach, I grabbed my already stiff cock in my hand, realizing I should have made it a cold shower. When was the last time I'd gotten laid? And why had it been so long? Women usually didn't affect me the way Gabrielle did. The desire to be with her grew stronger every day, and I didn't think she hated me anymore. God she was beautiful. Sexy too, sitting there over her laptop. I wondered what she was typing. A scene from her book, no doubt. Was it a sex scene? Did she even write those? What kind of sex scene would Gabrielle write? I thought of Gabrielle typing a scene about a fourteenth-century warrior from the Scottish Highlands taking pleasure in the damsel he's just rescued. I closed my eyes, becoming that warrior as Gabrielle's lips grazed over my stomach, tantalizing me with the tip of her tongue going lower and lower until she licked the tip of my cock. The smooth texture of her tongue gliding over me was almost too much to bear. She shifted her position and climbed on top of me, urgently guiding me. I held on tightly as she sat on top of me gyrating her hips, taking me in as deep as I would go until I could feel the wall of her cervix against my tip, in and out, until she called out my name. I must have been pumping unconsciously as my release had me falling back against the cold shower wall. I opened my eyes to find cum all over the shower door. "Shit."