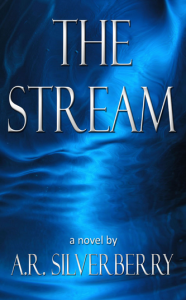 What if your world was six miles wide and endlessly long?
After a devastating storm kills his parents, five-year-old Wend awakens to the strange world of The Stream. He discovers he can only travel downstream, and dangers lurk at every turn: deadly rapids, ruthless pirates, a mysterious pavilion that lures him into intoxicating fantasies, and rumor of a giant waterfall at the edge of the world. Defenseless, alone, with only courage and his will to survive, Wend begins his quest to become a man. Will tragic loss trap him in a shadow world, or will he enter the Stream, with all its passion and peril?
Part coming-of-age tale, part adventure, part spiritual journey, The Stream is a fable about life, impermanence, and the gifts found in each moment.
You can find The Stream here…
Amazon | Barnes & Noble | iTunes
Take a peek into the mysterious world of The Stream with this excerpt:
I pulled my old bones from the skiff, swearing for the thousandth time that I should've died long ago. Feeling the years most in my fingers, I tugged my mittens snug, secured the vessel with an awkward knot, and made for the campfire. Half a dozen shadows huddled near the flames, which threw flickering gold upon the surrounding rocks and stream.

I squatted by the fire, turning my hands to warm them, and then fished out the last of my flatbread from my rucksack. I broke off a piece and offered it to the man nearest me.

He surveyed me with steely eyes, which peered from the shadow of a low-pulled hat. "I've got mine," he said, holding up duck still dripping on a spit.

Shrugging, I nibbled my bread—grateful that the fire kept the piercing cold of the night at bay—when a small movement near the rocks caught my eye.
About the author — A.R. Silverberry…
A. R. Silverberry writes fiction for adults and children. His novel, WYNDANO'S CLOAK, won multiple awards, including the Benjamin Franklin Award gold medal for Juvenile/Young Adult Fiction. He lives in California, where the majestic coastline, trees, and mountains inspire his writing. THE STREAM is his second novel.
Stay in touch with A.R. here…
Website | Newsletter | Facebook | Twitter | Pinterest |
Related articles across the web