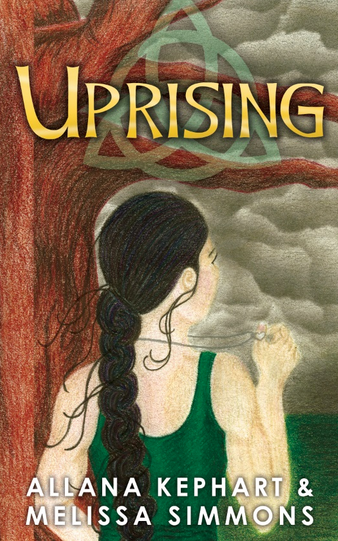 Welcome to Uprising by Allana Kephart and Melissa Simmons, a futuristic tale that you have to read today.
The year 2102–the world as it was no longer exists. Ravaged by nuclear war and polluted almost to the point of no return, Earth was dying. When the faeries came and brought their healing magic, humanity was grateful at first. Centuries of damage repaired in just five years, and during the course of that rehabilitation, they invaded. Quietly overthrown, the human race is now enslaved. The majority doesn't even realize they have no free will. Branded, herded and kept only to further the agendas of the Fae Courts, humanity could be facing extinction.
But a resistance is coming…
Fianna Dolan has spent her entire young life preparing herself for an uprising against the Fae. One scorching summer night Fi's parents leave and never return. Thrust into a position of power she never expected, Fi struggles with her new position and the responsibility it entails. When a secretive fae man known only as Flint breaches the city's defenses claiming he can help, Fi begins to doubt everything she's ever considered truth. As betrayals and deception come to light, will Fi want the answers she's been seeking, or will trusting Flint lead to her destruction?
Get your copy of Uprising at these online retailers…
Amazon | Barnes & Noble | iTunes | Smashwords
Allana Kephart has been making things up and bending people to her will from a very young age. She loves animals and reading and spends a large amount of time thinking up ways to torment her characters. She shares a brain, a love of coffee and the color purple with her alter ego/best friend/co-author, Melissa Simmons.
Melissa Simmons is an avid reader who married her soul mate and is the proud mother of a spoiled cat. She spends her days helping promote independent authors and doing what the voices in her head tell her to. She shares a brain, a love of coffee and the color purple with her alter ego/best friend/co-author, Allana Kephart.
Find Allana and Melissa here…
Website | Facebook | Twitter | Pinterest
Want to read an excerpt of Uprising? What are you waiting for?
The tall guard comes out and nods to her; interrupting her train of thought. "Fi."
"Sean," she replies. "Sean?"
He stops and looks at her; lifting a brow. He's tired, but he pulls himself out of a slouch and sighs, "Yeah?"
"Any sign of them?" she asks in a sad voice. She already knows the answer.
"No." He shakes his head, obviously tired of this conversation already. "Fi, they're not coming back."
"You don't know that," she snaps back at him. "They might. There's no proof anything happened to them—"
"Fi…" He's softer this time, but still holds his ground. "Don't do this to yourself."
She deflates a little and nods; looking into her mug of coffee. He ruffles her dark hair, which hangs loosely around her face today, and walks away, nearly stepping on me as he goes. I shoot out from under his foot and hiss at him, taking off up the tree I've been hiding in all this time.
"God!" he cries; stumbling back and cursing up at me. If I weren't so irritated with his ignorance I would laugh at him.
"Sean, calm down," Fi huffs. "It didn't bite you or anything."
"I hate rats," he says. Rat? I knock an abandoned bird nest out of the tree and watch it explode on his head before leaping into the next oak, making it look like an accident.
"I don't think it's a rat," Fi snickers as Sean freaks out, smacking twigs and eggshells from his hair. He is thoroughly pissed off now, and I find way too much pleasure in that. "I don't think it liked being called a rat, either."
Related articles across the web