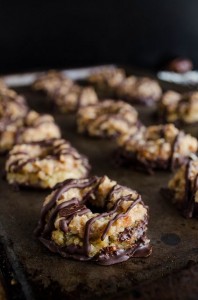 I just discovered the most amazing blog…ever! It's Chocolate Covered Katie and I'm actually a bit embarrassed to admit that I just found it. You see, I'm behind what thousands of others already know, but it's probably because I spend most of my day with my nose buried in books.
So, if you share my book obsession and haven't been out much lately, allow me to be the one to introduce you to Chocolate Covered Katie. Yep, I know…that adorable name is enough reason to check it out. But the real reason to pay the site a visit is the amazing ways she combines chocolate to form new recipes that are delicious and healthy.
Here's her take on my favorite Girl Scout Cookie:
Healthy Samoas Girl Scout Cookies
About Margery Walshaw
Margery Walshaw works with writers to promote their projects to consumers and entertainment entities. Via Evatopia, she has created a networked world of creative, female entrepreneurs and markets them to a targeted audience of women. She has worked on publicity campaigns for internationally recognized companies and taught P.R. at Pepperdine University in Malibu, also providing private instruction to countless professionals. Margery holds a dual BA in Communications and Social Sciences, and a MA in Professional Writing from USC (go Trojans!). Stay in touch with Margery via Evatopia's social media links along with this site's newsletter.