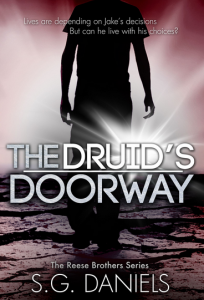 The Druid's Doorway by S.G. Daniels…
Jake Reese thinks he's just a screwed-up high school kid living in a small town isolated in the Arizona desert. Traumatized at an early age by his mother's sudden death—and believing he might have had something to do with it—he's allowed his guilt and lack of self-confidence to rule his life.
Hailey is the fiery little redhead that sees Jake as more than a just a good friend. When she invites him as her date to a school function, it brings down the walls he's built to protect his heart, and sets off a series of events that threaten not only Jake's life, but that of everyone around him.
The discovery of a portal on the outskirts of town brings Jake face-to-face with death and reveals a closely guarded secret about his mother. No longer is his memory of her the only thing that haunts him. Something evil from her past has escaped through the portal, and nothing will prevent it from trying to steal Jake's future.
Can Jake overcome his fears to keep Hailey safe? Will the decisions he's forced to make destroy everyone he knows and loves? And ultimately…is he strong enough to live with those choices?
You can find The Druid's Doorway here…
Amazon | Barnes & Noble | Kobo | iTunes | Smashwords
Read for an excerpt?
"I know you have questions for me after hearing all of this. There's more of the story to tell, a lot more actually, but I thought I'd give you a break and a little time to take it all in."

Hailey was the first to say something. "I'll go to the kitchen and bring something back for us to drink. That should give you a chance to have a little family privacy." She started to get up from her seat on the sofa.

Jake reached for her hand and gently pulled her back down next to him. "If you don't mind, Hailey, I'd rather you stayed. You are part of this family, as far as I'm concerned. Please?"

He looked at her imploringly and she eased back in next to him, giving him a comforting smile. Then she wrapped his hand in both of hers. "Sure, I'll stay if you want me to."

The room was silent, but strangely enough, not awkward. Jake cleared his throat, and Gavin felt a surge of relief wash over him. He was worried Jake would walk out, and he wouldn't have blamed him if he did. This was a bitter pill to swallow, but he knew the look on Jake's face. It was the one he saw when his son was ready to face something head-on and deal with it. Jake wasn't running from it…yet.

"So," Jake said slowly, "you're saying she started to walk through an opening into another dimension…and she did this while she had me inside of her."
About S.G. Daniels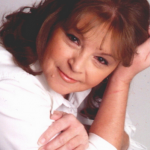 S.G. Daniels lives in rural Central Illinois with her husband of thirty-one years, and two spoiled cats, Payne and Jenks. She works full-time in a local medical facility as a patient accounting refund specialist. Most evenings she's in front of her computer, working on story ideas, or learning the ins and outs of the writing world. On the weekends, if she's not spending time outside, she's usually nose-deep in a book.
When S.G. unleashes her inner daredevil, she usually takes off through winding timber trails or country roads on the ATV. Her weaknesses are iced tea and pretzels, especially when she's working on a story.
Stay in touch with S.G. Daniels…Be the first to find out about the next installment in the series — The Druid's Lair, coming 2015!
Website | Facebook | Twitter | Google+ | Pinterest
Related articles across the web