Stone Soup Designs offers handcrafted wire wrapped jewelry by Tonya M. Rupell. The company is dedicated to making quality wire wrapped and hand beaded jewelry at affordable prices.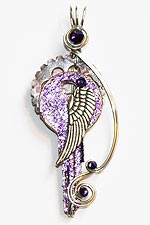 Their services include:
Author Swag
Home Show Parties
Fundraiser's for non profits
Adult Parties
Girl Scout Beading Classes
Boy Scout Gemology Classes
Custom pieces
Basic Beaded Jewelry Repair
Shop for your next unique piece at their on-line store   
About Margery Walshaw
Margery Walshaw works with writers to promote their projects to consumers and entertainment entities. Via Evatopia, she has created a networked world of creative, female entrepreneurs and markets them to a targeted audience of women. She has worked on publicity campaigns for internationally recognized companies and taught P.R. at Pepperdine University in Malibu, also providing private instruction to countless professionals. Margery holds a dual BA in Communications and Social Sciences, and a MA in Professional Writing from USC (go Trojans!). Stay in touch with Margery via Evatopia's social media links along with this site's newsletter.