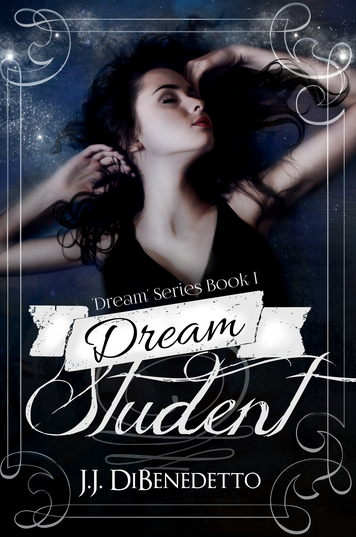 Dream Student by J.J. DiBenedetto is the first book of the Dream Series.
College junior Sara Barnes thought her life was totally under control. All she had to worry about was her final exams, Christmas shopping, applying to medical school – and what to do about the cute freshman in the next dorm with a crush on her. Everything was going according to plan, until the night she started seeing other people's dreams.
It's bad enough that Sara is learning more than she ever needed to know about her friends and classmates, watching their most secret fantasies whether she wants to or not. Much worse are the other dreams, the ones she sees nearly every night, featuring a strange, terrifying man who commits unspeakable crimes. Now Sara wonders if she's the only witness to a serial killer – and the only one who knows when and where he's going to strike next.
Look for Dream Student here…
Amazon | Barnes & Noble | Kobo | iTunes  | Smashwords
J.J. (James) Dibenedetto's fans would swear he's got a sixth sense when it comes to seeing into the minds of others and often wonder if his stories could possibly be fiction. He enjoys suspending disbelief with suspenseful paranormal tales that are a perfect blend of reality meets fantasy.
His popular Dream Series continues to delight readers with each and every exciting installment.
Born in Yonkers, New York, he currently resides in Arlington Virginia with his beautiful wife and a cat he is sure has taken full advantage of its nine lives. When it comes to the cat, he often wonders, but then again it might just be his imagination.
Don't miss out on news about pending releases…Stay in touch with J.J. 
Related articles across the web