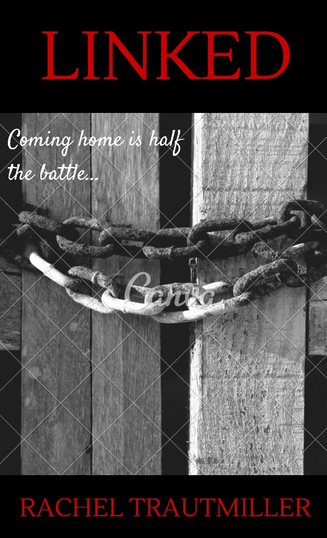 Linked by Rachel Trautmiller has romance, murder, and plot twists and turns. Read it today and get ready for the second book in The Bening Files, "Disconnect," which comes out February 3, 2015.
Jordan Bening put his mother's murder behind him when he left Charlotte North Carolina—and the innocent man in prison for the crime. Almost a decade later, Jordan has college completed, a solid career with the FBI, and a girl he plans to settle down with as if the past never happened. As if the real killer isn't still lurking. When a postcard bearing the smiling face of his childhood friend finds him, a special message attached, he knows it's time to deal with his unfinished business.
McKenna Moore doesn't think about the day in April when her best friend's mother was murdered. She doesn't dwell on Jordan Bening's disappearance or how her testimony might have changed the trial, in which, her uncle was charged with the murder. Instead, she's focused on her career with the FBI and vindicating each victim that crosses her desk.
When McKenna runs into Jordan in Las Vegas, on a forced mini-vacation, she puts her questions and guilt to the side long enough to enjoy his presence—a little too much. One too many drinks and a chapel wedding later, she finds herself married to a man she hasn't seen in ten years. What's worse, he's not the boy she remembers, but an attractive man she can't stop thinking about. He's also her new co-worker.
With McKenna's car stolen, mysterious bouquets of flowers arriving, a grave robbed and a murder-suicide to investigate, Jordan suspects nothing about their current position is random. Right down to their hasty nuptials, he knows the details are linked. He just has to prove to McKenna that he's not that same kid who left home. And he's not going down without a fight.
You can find this book exclusively on Amazon!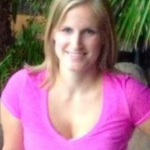 A bit about Rachel…
Rachel Trautmiller currently lives with her wonderful husband, adorable daughter, two unruly dogs and a fat cat in Fresno, CA. She has worked in the Healthcare field for over ten years and writes whenever she can fit it in between spending time with her family.
She grew up in the harsh winters of Minnesota, but has traveled the U.S. with her USAF husband. Rachel prefers the hot summers to any subzero day. She is working on several other books, including Books 2 and 3 of the Bening Files series to be released in 2015.
Stay in touch with Rachel here…
Website | Facebook | Twitter | Google+ | Pinterest
And now…for an exciting excerpt from "LINKED"!
A hand touched her shoulder, bringing her from her thoughts. A spiral of panic zipped down her spine and landed in her stomach. McKenna knew before she looked up that Jordan stood beside her.

He had one hand in his pocket, his lips cocked to one side so that a slight dimple formed. Yet, his eyes were hard, as if he expected a fight. Blue eyes twinkled at the prospect, while that blond hair gave him a just- rolled- out- of- bed look that had her wanting to rush her fingers through it and mess it up a little more.

McKenna swallowed. The day could always get worse. He could insist they move in together and try to work this out like civilized adults. Like normal people. Only nothing about them or their past relationship was normal. Her stomach tilted.

If one thing about Jordan remained unchanged, it would be his old- fashioned sense of duty.

And he would see her as that. His duty.

He removed his hand from her shoulder, but she swore the imprint would stay there for life. Along with the tingling sensation it had created.

"You're wanted," he whispered.

"What?"

"Moore, are you listening to me?" SAC Robinson's sturdy voice made her jump. He strode toward them in confident steps, his tall, lean figure eating up the path between them. His dark hair looked almost black, much like the annoyance on his face.

McKenna gathered the pictures, stood, and barely missed stumbling over Jordan. With a hand to her elbow, Jordan managed to secure her footing.

"Sorry, what did I miss?" She stepped away from him and kept her eyes focused on Robinson. Their boss studied her until she thought her life story, including the previous weekend's events, might be tattooed somewhere on her face.

Robinson glanced at Jordan as if he knew exactly what was going on between them. His expression was a mixture of authoritative questioning and the buddy- old- pal smirk of long- time friendship. Wow, that gave a whole new meaning to rats arse .

A hole to crawl into would have been fantastic, but she hadn't gotten this far by hiding. "Thanks for making me take that vacation, Chief. I owe you one."

That got both Robinson and Jordan's attention, but neither man said anything.

She held up the case folder. "I'm so glad I'll have a familiar face to work this with."

Robinson put his hands in his pockets. "Yeah, Bening's our new ASAC. Problem?"

Several sarcastic remarks sat on the tip of her tongue begging for release. "You give Rupert, Bening's phone number, and I'm all for it." Maybe they could become friends and jump off a cliff together.

Whoa. Too far, McKenna.

"Anything I need to know about?" Robinson asked.

"Nothing I can't handle." Like pretending Jordan wasn't standing inches from her, his arm centimeters from rubbing against hers.

Robinson nodded. "I'm not gonna sugarcoat this for you two. This case is more politics than anything else. Sad, but true. We're dealing with one of Charlotte's oldest and richest families here. The only reason we have this case is because Mr. Gaidies called one of his senator friends in D.C. right after his 9- 1- 1 call. Naturally, Quantico passed the buck to us. So we've already ticked off CMPD, which is where we're gonna need you, Moore. They were first on the scene."

"Already spoke with Detective Nettles. They're not convinced this case has need for federal attention yet. But we'll have full cooperation on Nettles' end as long as we reciprocate."

"Which means we'll be fighting tooth and nail for info." It wasn't a question, but fact, because while her best friend from CMPD and SAC Robinson made one heck of a team, they also had a love-hate relationship as far as McKenna could tell.

"I've got it covered."

"Okay. After that display with Mr. Dillon last night we've also struck a nerve with the family. Mr. Dillon would like to see you both demoted."

What? Rage billowed up her esophagus like a hot air balloon. Jordan didn't look the least bit rattled, as if he'd left his emotions back in Las Vegas.

"Why not just ask that we be removed from the case? Makes more sense, doesn't it?"

Robinson held up a hand. "Right now, we don't have a formal complaint. Even if he files one, which I don't think he's stupid enough to do, it won't stick. I know you did what you had to do. Bottom line. Find our guy." He dismissed them with a wave of his hand.

McKenna wanted to run toward her office. Instead, she took a not-so-calming breath and turned toward Jordan.

"Nice start to the morning?"

"You have no idea," she said under her breath.

"This doesn't have to be awkward, McKenna." Not awkward? She couldn't help it, she let out a small snort- laugh and garnered a few glances in their direction before she composed herself. "I don't think that's possible. Here." She slapped the ring into the palm of his hand, turned on her heel and headed for her office.

Their office. Their case. Their UNSUB.

They needed ground rules. ASAP