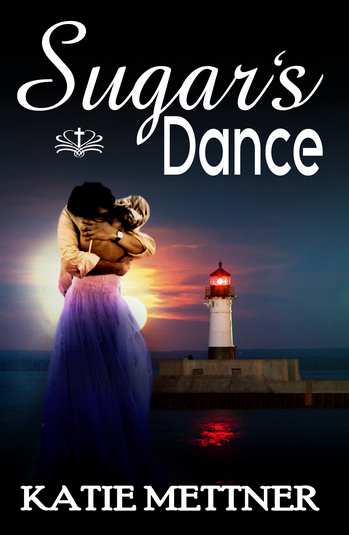 Don't miss the exciting saga of Sugar's Dance by Katie Mettner. This is the first book in a four part inspirational, romantic suspense series.
Grab a cup of joe and meet Tula Dubois, Sugar to everyone who loves her, an accomplished ballroom dance instructor living in the Twin Ports of Lake Superior. From the outside, Sugar appears to have it all, a successful business and a wonderful family, but behind closed doors Sugar's emotional walls are crumbling as the events of one snowy November night ten years ago fill her nights with terror. As she struggles to keep her sanity from slipping away she is taunted by the never-ending mantra of why. Why is she still here? Why was she spared?Will the events of one snowy November night haunt her forever?
When Drug Task Force Agent Donovan Walsh arrives in Duluth, Minnesota, there is no doubt in his mind that it's the tip of the end of the world and he prays that his assignment will be short so he can escape back home to sunny, warm Texas. That is until he meets his latest protected witness, Sugar. His job is simple — protect her from a madman determined to engage her in a dangerous tango. All it takes is one dance across the floor and Agent Walsh quickly discovers there is nothing simple about Sugar.
As the gales of November blow early, Van finds himself drawn to Sugar as he leads her through a tender dance of grief and guilt. The sadness in her eyes when she thinks no one is looking compels him to help her rediscover her love for dancing and the reasons why she was left behind.
As one storm eases another intensifies and Sugar is pulled back into a high stakes promenade with a psychopath hellbent on destroying her family and her town. Sugar must summon her strength and give the performance of a lifetime as she becomes an unwilling partner in a treacherous dance of drugs, kidnapping and family betrayal. It's a dance where one misstep could leave her fighting for her life!
As winter descends upon Lake Superior, Sugar will waltz through the darkness to find faith, hope, and the greatest of these, love….
You can find Sugar's Dance on Amazon.
More about the author…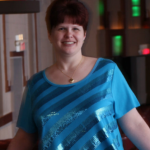 Katie Mettner grew up in Eau Claire, Wisconsin and moved to the Northwoods where she now resides with her husband and three children. Katie writes inspirational romance and is the author of The Sugar Series, The Northern Lights Series and the Snowberry Holiday Series. Her stories are a reflection of her love for family, intricately woven with life experience. When the gales of November blow early you can find her at the computer with a cup of joe working on her next adventure.
Stay in touch with Katie here…
Website | Facebook | Twitter | Pinterest | Google+
Want to read an excerpt? What are you waiting for?
I was standing in the doorway to the kitchen. It had been another rough night. After excusing myself and going to my room I watched all the late night TV shows knowing as soon as I fell asleep the nightmares would return. I spent the night tossing and turning and was never more grateful to see the sun come up over the lake. I had spent a long time in the shower and getting ready for the day trying to put off the inevitable. I knew that today I had to dance with this man. This man who had shown up at my door and managed to get me to open up to him in ways I have never done with anyone else before. I also knew I was going to have to tell him the rest of my story before he found out from someone else because somehow I knew it would hurt him too much to not hear it from me. I wasn't emotionally ready to do that yet though. For the first time in ten years I was just Tula DuBois again. I wasn't Sugar to him, I was Tula and whether it was right or not I wanted to see what that was like. He either hadn't done any research on me or else he was a very good liar. The vibe I got was he was taking what I said at face value. Seemed like that was the way he did things. Ask a question, get an answer and move on. I suppose if he had any inkling I was lying he would switch into cop mode and grill me for all he was worth, but for now he seemed satisfied with my story.

He had his back turned to me and I was enjoying the view of his well filled out Levis as he dug through my cupboard. He was trying to decide what kind of coffee to make and it seemed as though the decision was overwhelming him this morning. He had thrown on a crewneck maroon sweatshirt and I couldn't see the front, but it probably said something like "Howdy" or "Howyall". The back was stretched across his broad shoulders and it tapered to his narrow waist and I need to stop this line of thought! His hair was shiny from the shower and I could smell his ever present Irish Spring. To say he took a bath in it was literal, but I couldn't figure out how the smell managed to linger all day.

"Need help with anything?" He jumped and turned around at the same time throwing his hand over his heart. I noticed the shirt said Texas A&M. Darn.

"Cripes, could you not do that!? How long have you been standing there?" Long enough.

"A while." I walked over to the counter and gazed up at what had him stymied.

"So you found the coffee cupboard."

I had one cupboard reserved for my coffee. It was sorted by region or country and by what kind was used in specific makers. I snuck a peek at him and noticed his eyes were slightly glazed over. I could feel the corners of my mouth turn up and looked back down before he could even consider the idea that I was laughing at him.

"You think this is funny, don't you?" He motioned at the cupboard.

"Who me? No, no, I have no idea what you are talking about." I did think it was funny, but then I haven't slept much lately and I was feeling punch drunk. It was taking much too long to get a cup of coffee.

"It is obvious to me," he said holding onto the cupboard door and looking down at me from his towering perch above me, "that you are an addict."

"You are telling me nothing I don't already know. Now either pick a coffee and make it or move over so I can." I put my hand on my hip and waited.

A slow smile spread across his face and he stepped back, hands up, palms out in front of him. "By all means, please, make the coffee. I don't want you to start with the DTs."
Ha, very funny. He wasn't, but he thought he was. Okay, so he was cute and he was funny, but I still didn't appreciate it. I reached up to grab a coffee and stopped my hand in midair.

"So do you want regular old everyday American coffee or something more adventurous?"

"Regular old American? You make that sound like a bad thing."

I shook my head."No, not a bad thing. I'm wondering if you are a put more goo than coffee in your coffee kind of coffee drinker or if you like it black, strong and pure." I was feeling the need for black, strong and pure. Pure caffeine. I knew it was going to be the only way to survive the day.

"Well, you look like you could use black, strong and pure. No offense, but you look like you should be going to bed rather than getting up."

He was sitting at the table eyeing me in my baggy workout pants and three quarter zip Columbia sweatshirt. I had my feet stuffed into my dance sneakers and my hair was in a ponytail gathered at the nape of my neck. I didn't think I looked too bad, but then I was probably trying to fool myself. It obviously wasn't working on him.

"Boy you sure can build up a girl's ego." I was holding the door to the cupboard open using it to prop me up.

"You ain't seen nothing yet." Oh boy. Time to step out of the rattlesnake cage.

I grabbed the coffee filters skipping right over that comment, "So we have Guatemalan, Zambian, Costa Rican or German coffee."

I knew he was laughing at me behind my back, but I refused to look at him. I pulled out the twelve cup Cuisinart, docked my iPod in the dock and let the soft strains of Allison Krauss fill the kitchen.
I turned around and glared at him, "I hear nothing but your laughter."